Written by Avery Bremner (Aversive / Unknowable Sound)
One topic that has really caught my interest is something called brainwave entrainment, so I thought I'd share a bit about it. 
Entrainment is basically the tendency for something to synchronize with the oscillation of a dominant external stimuli. If there are two things oscillating, they will eventually synchronize to the same frequency of oscillation. This can happen in many ways. A simple example of entrainment in a social sense would be a crowd of dancers synchronizing to the beat of the music they are listening too... Or even instances of "group think" where the behavior patterns of a species synchronizes to a dominant pattern... 
Your brain will entrain itself to match another oscillating frequency, especially from sound and light stimulus. In the case of sound, a beat interference pattern oscillating at a specific hertz will entrain your brain to produce brainwaves at that same hertz. You can push your brain into a specific state of consciousness, depending on the hertz frequency you entrain your brain to. Different states of consciousness have their own energetic hertz signature that we can tune too when our brain waves are entrained to it. Through brainwave entrainment we can literally turn the dial of our brain to tune into a specific state of consciousness, through entraining to its signature vibration, or hertz frequency.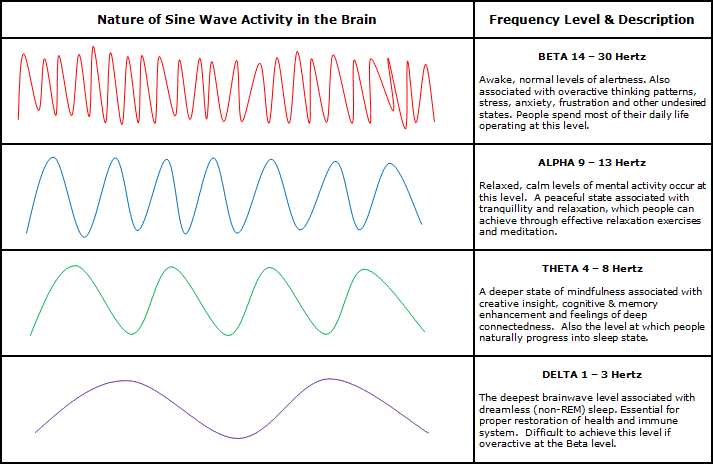 Since ancient times, sound has been used in all cultures to induce a state of trance or fixation on a feeling, emotion, or idea. The steady pounding beat of the shamans drum was used to induce a one-pointed state of trance through rhythmic entrainement, nudging the shaman into a theta or alpha brain state, leading him or her into the deep imaginal realms of the subconscious. The use of mantra, the chanting of specific syllables, words or names considered sacred in repetition also puts the brain into a state of entrainment, in resonance with the vibrational frequency and intention of the sounds being intonated. Ancient musical instruments such as the Tibetan singing bowl have been researched and shown to bring the brain into a theta state through entrainment and create a state of deep relaxation and in turn promote healing/rejuvenation in the bodies cellular structure. The Shona people of Zimbabwe play a musical instrument called the mbira which they claim can create a state of trance to perform healing and enter altered states of shamanic consciousness to connect with the ancestors. There are many more examples of music being used as a tool to alter consciousness in ancient cultures all over the world. 
Now with modern technology the discovery and application of binaural beats has been used to change our consciousness in conformity with hertz vibration and resonance. First brought into the realms of science by researcher Heinrich Willhelm Dove, later expanded upon by Gerald Oster, leading to the ground braking research conducted by Robert Monroe and the Monroe Institute. They discovered that our consciousness could be nudged into specific brainwave states using the same principle of rhythmic and melodic entrainment used by the ancients to go into a state of trance. They could open one up to experience other levels of consciousness, what one might call the subconscious or the imaginal realms. This sonic technology has since been used as an aid in hypnotherapy as well as a tool for any individual to achieve levels of consciousness which promote enhanced creativity, concentration, learning, and deep sleep. 
So how do binaural beats work exactly? A "beat" in this case, is not a beat in the usual sense of the word, like a drum beat, but rather a term from the science of acoustics. Here is the definition from Wikipedia: 
"In acoustics, a beat is an interference pattern between two sounds of slightly different frequencies, perceived as a periodic variation in volume whose rate is the difference of the two frequencies." 
A binaural beat is an inner phenomenon created in the brain itself when two slightly different sine wave frequencies are perceived through each ear, and combine in the brain to create a third tone vibrating at a hertz which is the difference between the first two tones... The frequency of this third tone perceived by the brain is then what entrains the brain to a specific hertz in resonance with it.. For example, if there is a sine wave frequency of 235 hertz in the right ear, and another sine wave frequency at 239 hertz in the left ear, the binaural beat frequency will be at 4 hertz, which will entrain the brain to the deep theta brainwave state at 4 hertz. Entrainment will occur after around 7 to 10 minutes of straight attentive listening with headphones.
If you haven't yet had a chance to try our free binaural beat, you can get access to it here but clicking the image below and joining our mailing list. Hope you enjoy it. We'd love to hear your feedback so feel free to use the poll on the download page to let us know your experience!