In this issue we interview a truly talented and conscious psychedelic musician, visual artist, and mystical explorer Jay Robinson aka (UNI.). But before we dive in, here is a quick introduction for those who may be new to Jay and his music...
Jay Robinson (UNI.) has played percussion since the early 2000's, beginning with djembe and drum circle, moving on to congas and Latin jazz, and finally, coming to the study of classical Hindustani tabla.  Tabla rhythms now form the rhythmic base of pretty much all of Jay's music, even if there isn't always tabla being played. In 2017 Jay launched a solo project using live looping and samples, steel tongue drums, flute and other percussion instruments to create a dynamic multi-instrumental sound improv experience that fuses the worlds of classical Indian music, modern sound healing and live electronics. 
Along with his photomanipulation pieces, Jay's intention with (UNI.) is to create an entrancing sacred space with presence, magic, sound and visual art. Touching the heart and spirit on a profoundly deep, biological, and spiritual level, Jay's music arises spontaneously based on his mood, and what melodic themes and rhythms he feels like exploring at the time. All of this interacts with the souls of the instruments, as they each have voices of their own, and speak to one another in special ways. They draw power and voice from their origins (material, crafter, land, and cultural heritage) and Jay's facilitation from the training he's had, making every recording ceremonial. Jay lives a semi-nomadic life, anywhere from the Rockies, into the Kootenays, to Vancouver Island. He draws inspiration from all traditional and psychedelic music, mysticism, plant medicine, work, and all the incredible people he encounters.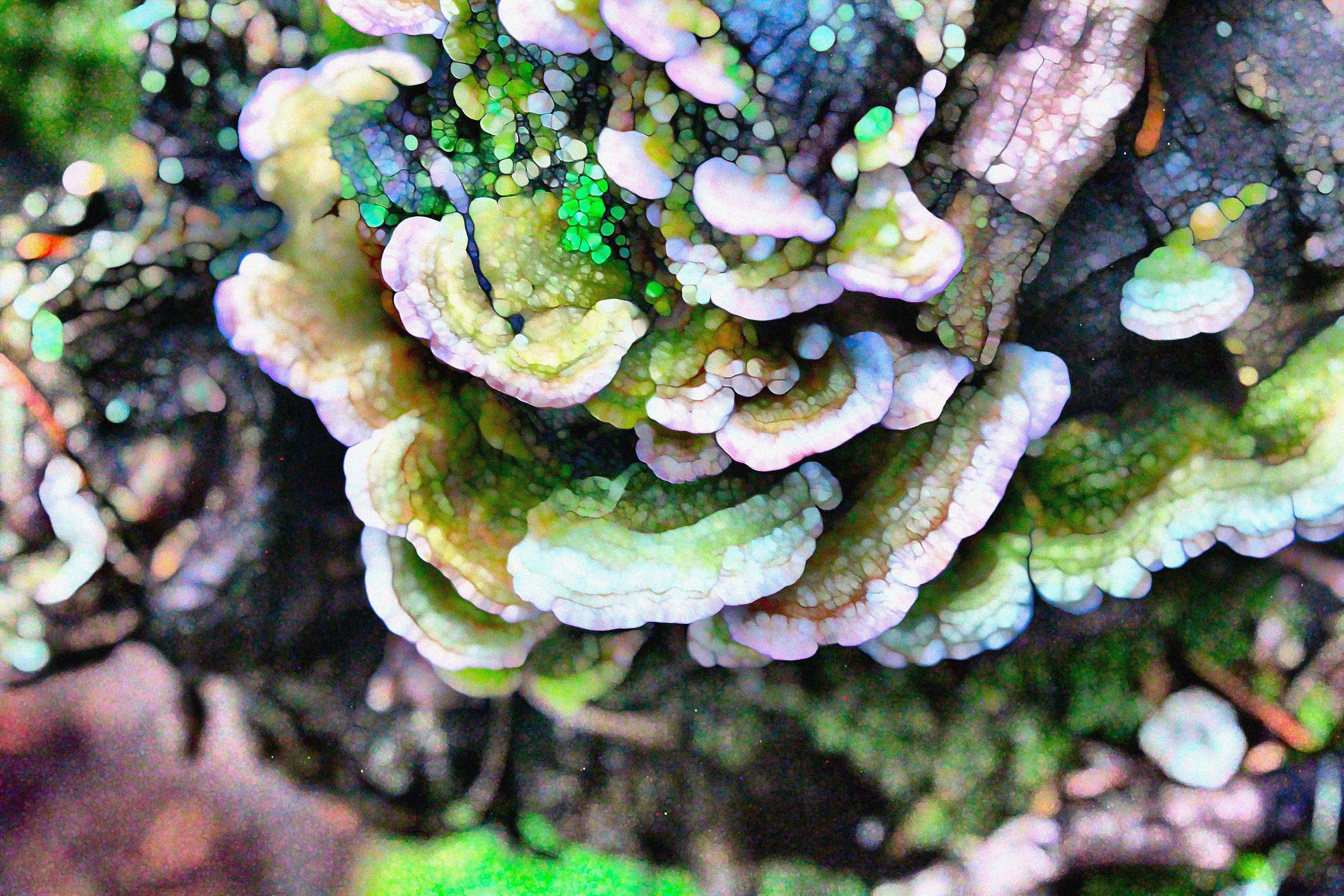 ---
U.S.R. Interview with Jay Robinson aka (UNI.) 
May 2nd 2020 
Subjects: sound healing, Hindustani tabla, Vedic knowledge, plant medicine, psychedelic experience, mysticism, mystical experience, current favorite artists, power of collaboration 
Avery: How did you first discover the concept of sound healing? 
Jay: I think my first experiences with some kind of intentional sound healing would have occured at my first festival, which was Evolve in Nova Scotia, in around 2003. I was glued to the drum circle, having just recently started African and Cuban drumming lessons. I would drum for hours through the weekend, as others came and went. The transfixation was so addictive. It facilitated spontaneous kinships. It showed me a part of myself that I can still reflect so much into. "Sound healing" strictly speaking, as a healing modality, I would not encounter until some years later, perhaps as I began to enter the yoga community. 
Avery: What does the term sound healing mean to you? 
Jay: "Sound healing" to me is a technical term that refers to a particular modality of alternative healing. There are different specific sound healing practices, but as far as I know it's quite a science so I usually don't use the term for my own music, even if it is music that may have healing properties. I have a friend who has studied sound healing using forks and other instruments; he's shared some knowledge with me and it's enough to make me respect the term and try to avoid it!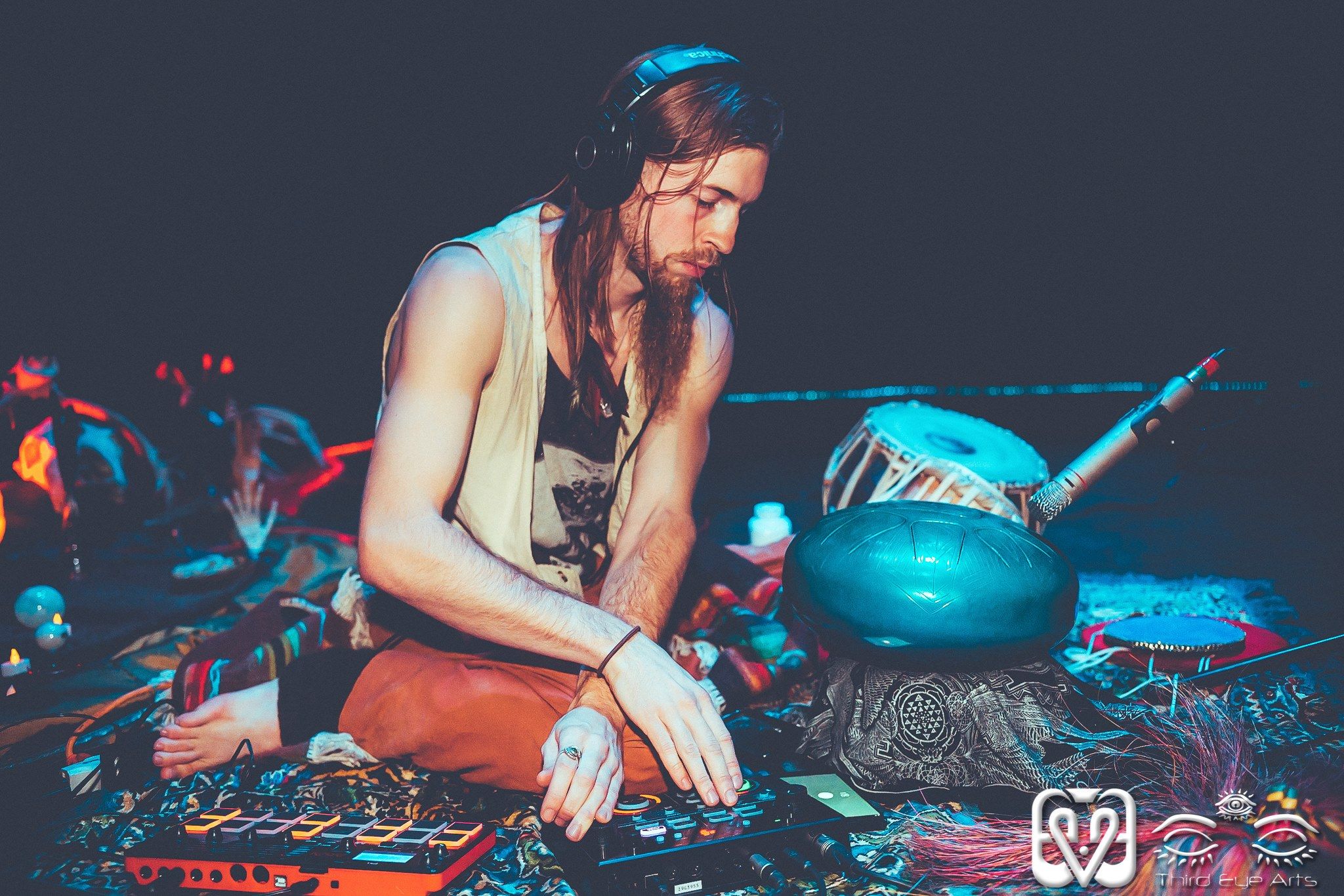 Avery: Have you ever had a first hand experience with sound healing outside of your own music making? 
Jay: I have had both healing experiences with music and some experience with sound healing proper. Didgeridoos, bowls, mantras, and icaros have all played deeply with the awareness of my cells in a subtly healing way. I've never perceived the curing of some specific ailment from it but I've never really intended for that or sought it out. 
Avery: You say that musical instruments draw power from their origins. How do they draw this power and what is it? How does this power empower the musician? 
Jay: Learning tabla really taught me about this. Tabla is a 2000 year old instrument. It's predecessor the mridangam could be twice that. The rhythmic tradition can be traced back through oral lineages something like 5000 years, apparently to Krishna. The tabla language is part and parcel to the entire body of Vedic knowledge, and the oral syllables that are used in tabla playing are essentially phonemes from the Sanskrit language. From my very limited knowledge on all of this, I understand that the syllables used in Sanskrit have a set of themes associated with them, including elements, Gods, parts of the body, or other aspects of the universe. Sanskrit words, being constructed of these syllables, are said to contain Vedic knowledge in their very vibration. All Hindu bodies of knowledge are conceived this way - yoga, ayurveda, tantra, music, even politics, are all woven together, refer to each other, and are built into the Sanskrit language. With all this, the power in this instrument is clear. The amount of collective intentionality, culture, history, mastery, and so on that have brought this instrument to me in the modern day, is massively humbling. This history is passed to me through the teacher, and it empowers me to bear the reverence for all of that. 
Avery: How has working with plant medicine changed or impacted your view of sound and music? 
Jay: Even though music is only sound, some people can see colours or have feelings that are perceived directly with music. But even for those who can't, music is totally synesthesic. Just look at a dance floor. Take the music away and all that movement is lost. Synesthesia goes hand in hand with the psychedelic experience, because psychedelics enhance the senses' perceptions. The next level of this for me is the profound relationship between music and the Ayawaska medicine. During ceremony, traditional medicine songs of the jungle are sung, and each one augments the quality of the medicine in your body in a particular way. There's nothing quite like it, and it really hammered in the concept that music is alive, in a very real, non woo-woo-spiritual way. Furthermore so is everything. Everything has life and a spirit, and deserves respect and reverence.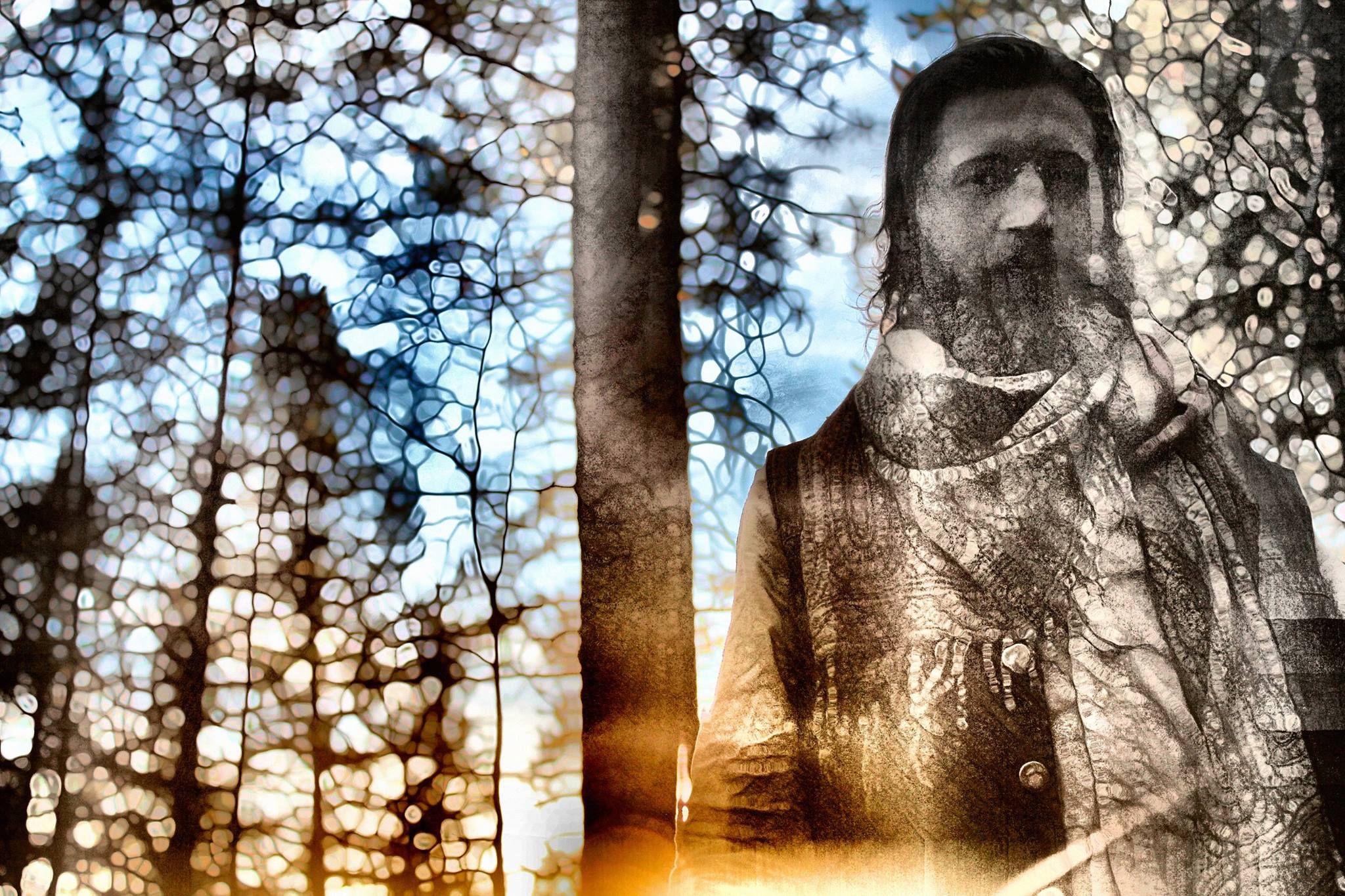 Avery: How has your interest in mysticism changed or impacted your view of sound / music? 
Jay: Music and sound have certainly been a part of mystical experiences for me, but I don't think that mysticism has changed how music is for me. I will say that part of what brought me to study mysticism was probably an interest in classical Indian music and sufi music from Turkey, Iran, etc. 
Avery: Have you had mystical experiences while playing or composing music? If so, what did they teach you? 
Jay: A mystical experience is where I perceive the entire experience as a divine revelation, but one which totally encapsulates and includes myself as Jay in that moment. It can be powerful or mild; scary, hilarious, overwhelming; ecstatic or painful; or really anything. Usually it teaches me that there is always everything left to discover. That I am a part of a whole, and so is everyone and everything else. That every experience and every being has the face of God, and that I can and should continue to open my heart to everything, because everything is that.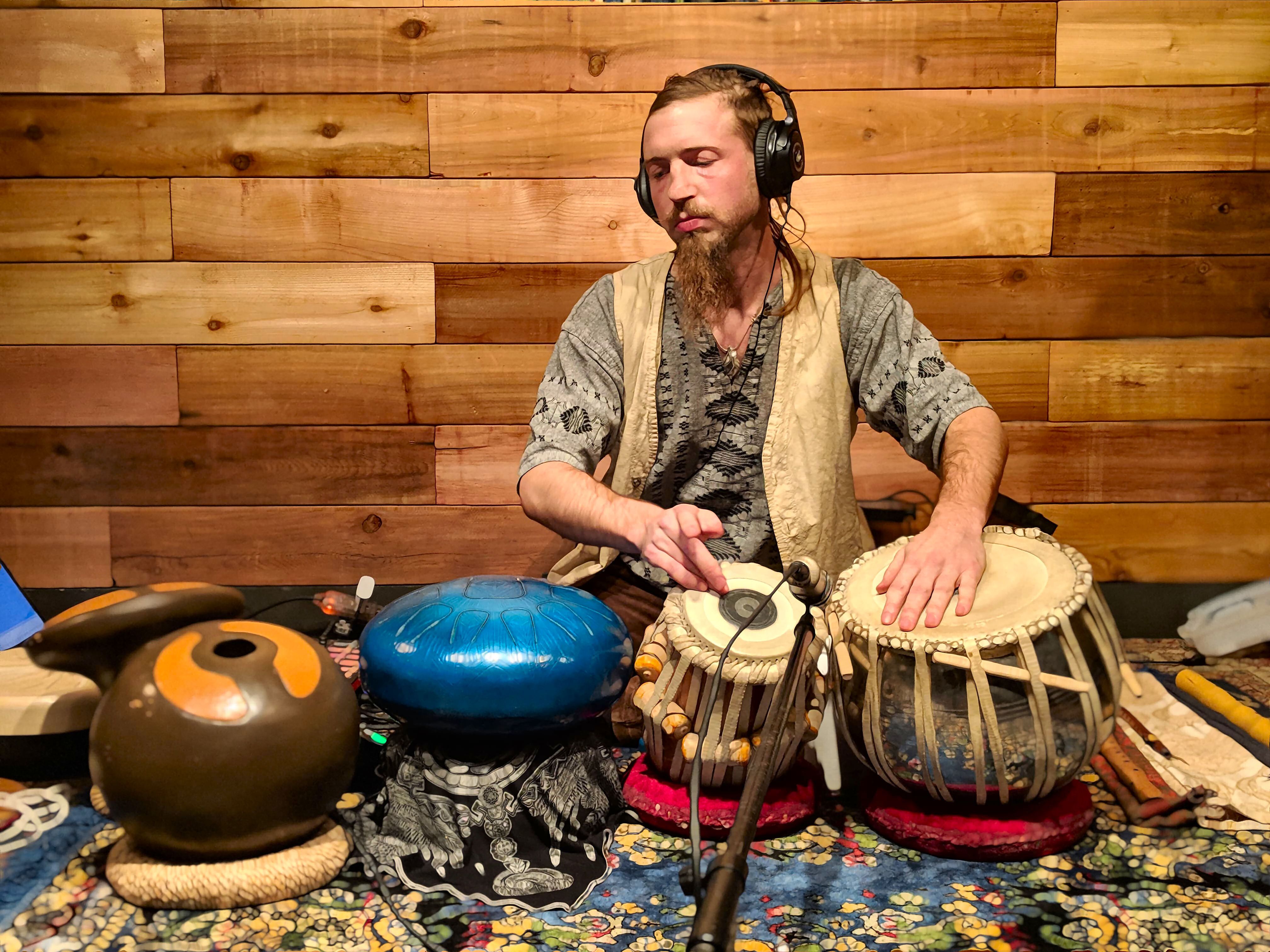 Avery: Do you feel that music itself has the power to heal, or do you feel its more in the mind of the musician or listener? Or both? 
Jay: I think that music has the power to facilitate healing, but like any medicine, it needs to be the right time. I try to be sensitive to that, because sometimes it's the wrong medicine! For example some people need to be agitated out of stagnation, and others need to be soothed. 
Avery: What 5 other artists are your current favorites? 
Jay: Right now for newer stuff I'm digging Ivy Lab, Sinepearl (always), Bluetech, Tool, and Tipper. 
Avery: If there was one moment in your music career so far that impacted you the most, what would that be? 
Jay: This is a really hard one. Before this project I was in a rock band, playing percussions, with 6 other friends. We played a few shows and I wish there was more because it was a flippin blast. I think my times playing rock, funk, and latin jazz have been truly the most impactful for me, because of the collaborative quality and the ecstasy that comes from that, like a qawwal party. With my personal project, the most impactful moments have always been when I feel that collaborative power with the audience, that there is a palpable receptivity and engagement. Times like that can be so uplifting for everyone. I strive for that!!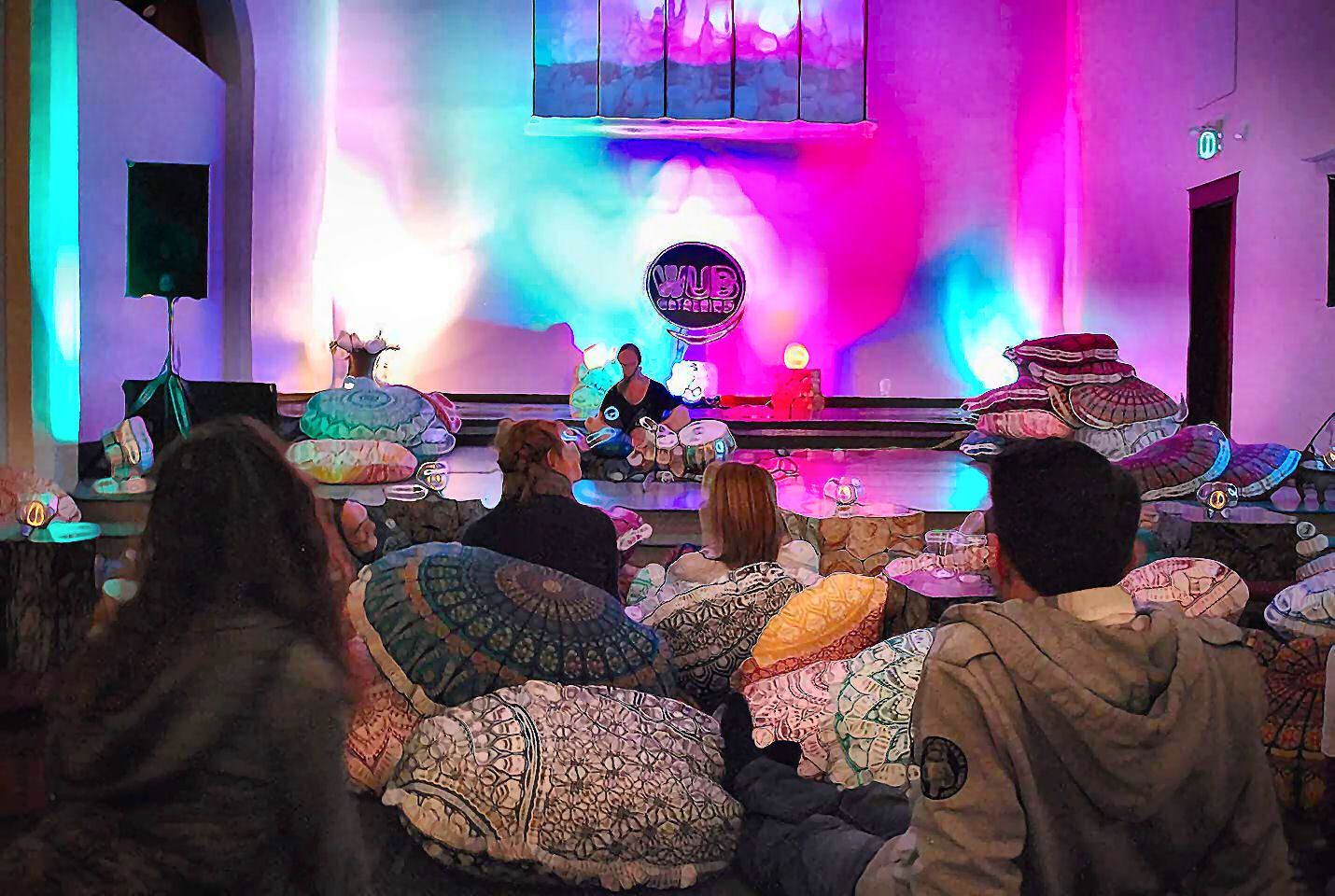 Digging Jay's artwork that you've seen in this issue? 
Jay made us some beautiful psychedelic phone backgrounds to download for free! 
---
You can stream or purchase (UNI.)'s 2019 USR release entitled Tactile EP by clicking here. Its available in both CD and digital format.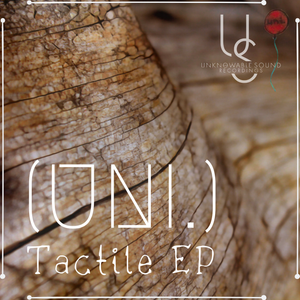 If you'd like to learn more about Jay and his music, please visit his website www.uniballoon.net and like/follow his facebook page. 
We would love to hear your feedback on this interview, so feel free to leave a comment below or contact us and let us know what you think! Do you have any questions you'd like us to ask in a future interview?